15th International SPICE Conference (SPICE 2015)
Gothenburg, Sweden, 16-17 June 2015
17 April 2015
The conference program and key note speakers are published, and the registration is now open. A reduced Early Bird Registration fee applies for registration before 9 May. There is a special rate for students, speakers and Program Committee members.
---
It is a great pleasure to host the 15th International SPICE Conference at the Conference Centre Wallenberg in the city of Gothenburg, Sweden in during 16-17June 2015 proceeded by a workshops and tutorials day on 15 June 2015. The Conference Centre Wallenberg is a modern, technologically advanced, multi-function venue for conferences, meetings and events situated in the heart of the medical research campus at Gothenburg University.
Gothenburg as a city, apart from its hospitality, is known for quality and excellence in automotive research and development, as well as innovation in medical research and applications. Swedish software companies are leaders in the uptake of Lean Software Development and Agile methods. Consequently, there will be special conference tracks on Functional safety and security; Medical technology; and Agility in Process Improvement.
We are convinced that Gothenburg, a Scandinavian city on the west coast of Sweden and recognized as a perfect location hosting conferences, can provide the best scientific, technological and social conditions for this conference. We also wish you a pleasant midsummer at the west coast of Sweden, and a safe return home of the Volvo Ocean Race teams.
We therefore encourage all colleagues from all over the world to participate and help us to make this an unforgettable important and enjoyable meeting.
The 15th International SPICE Conference will be co-located with the 1st International Workshop on Software Process Education, Training and Professionalism, which will take place on the 15 June 2015, is the subject of a separate call for proposals http://www.iwspetp.com .
Alec Dorling, ISO convener Process Assessment Standardization
SCHEDULE
Call for papers and/or industrial experience reports - 07 January 2015
Submission of research papers and industrial experience reports - 06 March 2015
Notification of acceptance - 03 April 2015
Preliminary programme - 10 April 2015
Final copy of paper due - 17 April 2015
Workshop and Tutorials day- 15 June 2015
Conference days - 16-17 June 2015
See Calls and Submissions for Call for Papers
---
2014 CONFERENCE GALLERY
The moments from the SPICE 2014 Conference can be found at the Conference Gallery.
---
PROCEEDINGS
SPICE 2014 PROCEEDINGS (SPRINGER Volume 477 2014) AVAILABLE ONLINE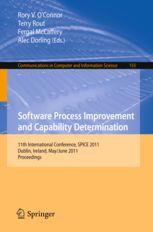 The SPICE 2014 Conference proceedings are avalaible online at Springer. You can access the online version .