CALLS AND SUBMISSIONS
Submissions are sought in the following categories:
• Research Papers (Full Papers)
Research papers should describe innovative and significant work in process modelling, assessment and improvement, particularly relating to the application of the Standards for Process Assessment, which is relevant across the information technology industry generally. Research Papers should be a maximum of 12 pages.
• Industrial Experience Reports (Short Papers)
Reports on practical experiences related to process assessment and improvement across the domains of software engineering, systems engineering and IT service management are sought. Industry Papers should be a maximum of 8 pages.
As with recent SPICE Conferences, the SPICE Conference proceedings will be published by Springer as part of the Communications in Computer and Information Science (CCIS) book series.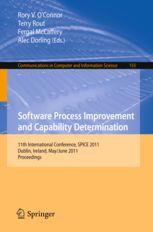 The SPICE 2016 Conference proceedings are avalaible online at Springer - access the online version.